Why Should I Choose Climatrol Inc. of Harrison County, WV?
We Sincerely Care About Our Customers
Thousands of satisfied customers have chosen Climatrol Inc. for all of their residential, commercial, and industrial HVAC installation and repair needs in Clarksburg, WV, and beyond. The main thing that sets our company apart from do-it-yourselfers and inexperienced individuals is the fact that we sincerely care about our customers and the end result of the service or installation that we do for you. We all live here and work here. Our satisfaction comes from you coming up to greet us when you see us on the street to let us know how your installation or repair is keeping your climate comfortable. We strive to make each of our customers' lives as pleasant and simplified as possible concerning their Heating, Air Conditioning, and air quality needs.
Heating and Cooling System Repairs for All Brands of Equipment
Climatrol services all major brands and models of HVAC and related equipment. We are dedicated to offering the highest quality units for installation, and are committed to performing each maintenance or repair service right the first time. Our technicians specialize in all aspects of HVAC, including new home installations, retrofits, historical home restoration, and comprehensive Heating, Air Conditioning, and air quality system service. All of our employees are state licensed, so you can rest assured that your project will be completed with accuracy and professionalism. If you have a heating or cooling project that also requires a licensed electrician or plumber, there is no need to hire a separate contractor. Climatrol offers comprehensive HVAC service.
No equipment is better than the installation and service behind it…
The bitterness of poor quality work remains
long after the sweetness of low price is forgotten.
Think Again Before You Hire a Non-Licensed Contractor!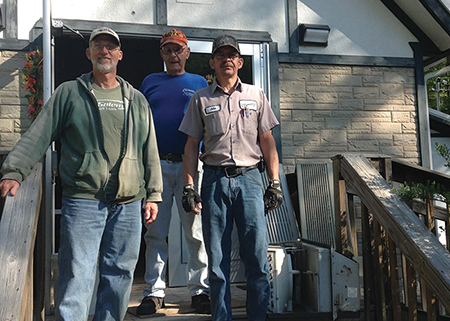 We cannot stress enough how important it is that your installer is licensed to complete the specific project for which you have hired him. Remember that non-licensed installers do not have insurance. What this may mean for you is that in case of any type of mistake, accident, or mishap, YOU are likely to be held responsible. We have assisted customers who, in a misguided attempt to save money, had previously hired unlicensed individuals to perform HVAC work that should have been completed by a licensed professional. In many cases, these customers ultimately paid more to have the mistakes corrected than they would have paid if they had simply hired Climatrol in the first place. In addition, your factory warranty is deemed invalid in most cases unless installed by a factory-authorized, licensed professional contractor. Don't take chances. Contact Climatrol for an estimate: (304) 623-0606.